I ALWAYS GOT LATE…
Let me share with you one specific story…
You know that when medical students are in first grade, they study Anatomy. (you don't say 😀 ) So I am not any different, to study the bones I had to go to Anatomy Department – more specifically in THE OSSUARY. On Saturday the University was opened as well, so we had the opportunity to go to the Anatomy dept and study the bones. The department opened as early as 7.00 a.m.
You know, I have that extraordinary ability to sleep deeply and continuously. So on Saturday I always got late for the opening of the department and arrived at 9.00 or something like that. When I finally enter the Department, all the "early birds", already have taken all the good anatomical models and skulls, and for me, I had a big NOTHING.
So, I tried and tried to get up early, but I didn't manage…
THERE IS A HUGE PROBLEM
And this happened so many times, that i
And this happened so many times, that I realized there is a problem, and it is not me ( of course 🙂 )
The problem is connected with the availability and quality of the anatomical models in the universities.
.
So, I was frustrated because in my coursebook there were a lot of structures on the skull but the real one was missing parts because of amortization. So I started searching for an opportunity to turn this problem, into an opportunity. The stake was clear I want both – good sleep, which is very important for medical students, and the ability to observe unbroken skulls and bones.
GREAT OPPORTUNITY
One day while I was searching on the net, I found out about the technology of 3D printing. I fell in love with it and I constructed one 3D printer. This is how I started dealing with 3D printing.
The second important thing is that I managed to obtain a CT scan of a real human's skull and convert it into an editable 3D model. Using that model, I improved the data and localized every structure that is present in the anatomy coursebook onto the skull.
OSCAR WAS BORN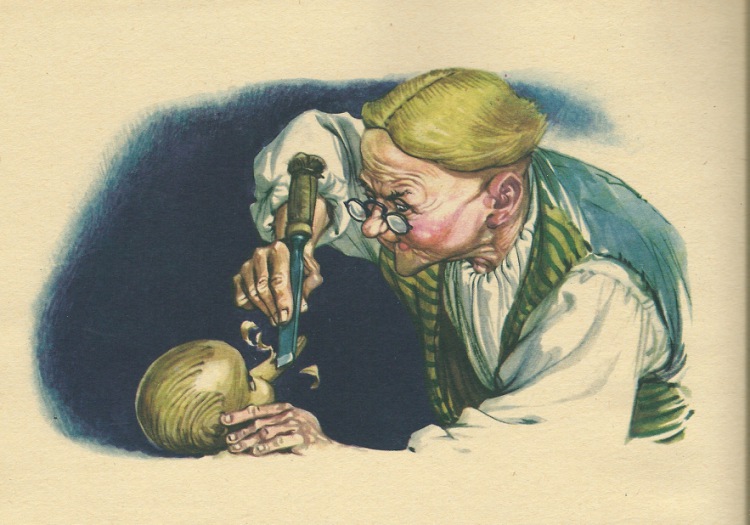 Did you know that the wooden guy's name "Pinocchio" comes from Latin "Pino" which means "pine"?
So Jepeto created his first wooden doll, so I got inspired and named the Skull "OSCAR", which comes from the Latin "OS", which means "Bone".
When I printed my first model, I felt like Jepeto, I was so happy and cheerful that I decided to share my achievement with my friends.
I posted a picture of Oscar on Social media and THEY GOT CRAZY! My friends were so amazed that on the first evening I received several requests to create Oscars. They wanted to have personal Oscar, because they wanted to study the skull in detail, and they wanted to have personal models. Moreover, in my opinion, they just wanted to sleep more and not to go to University on Saturday.
My first version of "Oscar", the Anatomical model of Human skull
SO I STARTED PRINTING
MOST ACCURATE SKULL MODEL IN THE WORLD
IN THE MEDIA
The news that I am dealing with 3D printing, CT scanning, and Anatomy and I am creating anatomical validated human bones spread quickly in my country and Oscar became a TV star. I was invited to participate in the most popular late-night show in Bulgaria – The late-night show of Slavi Trifonov. I was so happy because I could present my innovation in front of all the Bulgarian people.
THE STORY OF OSCAR SPREAD SO QUICKLY
After I visited the show I was invited to nearly all Bulgarian TV shows, Podcasts, and Newspapers. I was so glad that the community around me admired my work and appreciated my passion for innovation.
This is how I ended up Equipping all Bulgarian Universities with Oscars and Anatomical Models.
SPECIAL AWARD FROM SWISS AMBASSADOR AND BULGARIAN PRESIDENT
Time flew and it was time for my graduation. It was in January, at the biggest palace in Sofia – the National Palace of Culture, that I obtained my M.D. I was so happy to go to the stage twice – first to become a Medical Doctor and Second time to receive a Special Award for Innovation in medicine, given to me by Swiss Ambassador n.g. Muriel Berset Kohen. Several days after, I was honored with a special award from Bulgarian President Roumen Radev – Excellence in Innovation.

This is how now I have my MISSION to travel the world and to help students understand and learn Anatomy, sleep more, and believe that they can solve every problem and can turn any situation into an opportunity.
If you want to FOLLOW my Journey – Check me on INSTAGRAM – oscar.travells